R8249 Locomotive Decoder
The R8249 NMRA Certificated decoder is capable of 'picking up' the control signals from the 'Select' and the 'Elite' or any other digital system and converting them into actions which includes moving forward and reversing at a determined speed, stopping and starting and in some instances if fitted, switching the locomotive's lights on and off.

The Hornby R8249 decoder is also capable of keeping the locomotive running at a set speed no matter what gradients the model encounters.

Many newly designed locomotives have a socket positioned internally to accommodate the decoder, however, some do not and the basic instructions are included with the 'Select' as well as the 'Elite' and go someway to illustrate how to fit the decoder to those locomotives that do not have a decoder socket.
Load compensation (Back EMF):
Locomotive will run at a consistent speed either on the "flat" or on gradients.
Adjustable acceleration and deceleration.
Selectable for operation with 14, 28 or 128 speed steps:
The greater the number of speed steps the smoother the acceleration. All Hornby decoders are factory set at 128 steps.
Four On/Off function outputs:
Two of the function outputs are dedicated for the direction of lights – front and rear.
Overload cutout:
The Hornby decoder is rated at a 500mA continuous current and 1 Amp for a short period. Should this be exceeded then the decoder will overload and cut out.This action protects not only damage to the decoder but also the locomotive.
Analogue operation:
Locomotives fitted with a Hornby decoder can be operated on an analogue system but without the benefits of digital control. (Not Recommended)
Dimensions:
17mm x 10mm x 3.5mm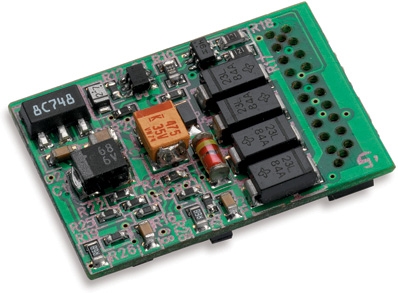 R8245 Sapphire Decoder
The R8245 Sapphire Decoder supports 1 Amp continuous current with 1.5 Amp stall. Low speed 'gear' for shunting operations. Size: 23mm x 16.5mm x 6.5mm (Approx). Set amounts of 'water' and 'fuel' can be stored on the Sapphire providing real time fuel consumption. Burn rates can be selected. All CVs can be changed. This decoder comes with a wiring harness and a 8 - 21 pin adaptor.
Main benefits include:
Built to conform to all relevant NMRA Standards
High frequency back-emf motor control - high frequency to reduce audible noise
Supports RailCom®
Asymmetrical DCC support
Size: Length 23mm x Width 17mm x Height 5mm
Low speed gear for shunting operations
Optional operation on conventional DC layouts
14, 28 and 128 speed steps
Provides IA continuous motor current, 1.5A stall
Four function outputs rated at 200mA each. Total current sum of function outputs = 500mA
Supports advanced consist control and extended addressing
Support for programming on the mainline (operations mode programming)
Support for all form of programming asx described in NMRA RP-9.2.3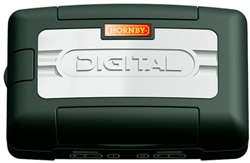 R8247 Accessory Decoder
Being able to change points and operate accessories with the minimum of wiring and fuss is one of the main attractions of digital control and the Hornby Accessory/Point Decoder allows the operator to do just that. Wiring points up in the old analogue fashion can be quite a daunting exercise. On some layouts which have numerous points this can mean that there are metres upon metres of cabling plus a whole bank of switches. Hours can be spent carefully wiring up the points only to find that there is a fault or an intermittent connection which means more hours of crawling about on the floor trying to locate the problem. With the Hornby digital system these horrors can be but a distant memory.
The Hornby R8247 Accessory/Point Decoder can be programmed to accommodate four point motors or solenoid operated accessories, plus other electrical accessories that require a constant or delayed current flow, for example a turntable. Connection of the points or accessories to the Hornby Accessory/Point Decoder is straightforward. The four outputs are factory set for the operation of solenoid (point) motors, however, by adjusting the CV settings of each output a graduation of varying 'bursts' of current up to a constant current (turntable motor operation, lighting, etc.) can be obtained for each individual output.